What is Technology Insurance?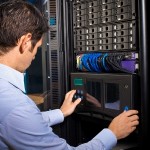 Barragan Insurance Agency offers Technology Insurance.  Today's world is driven by technology.  More and more companies are increasingly being put at risk for various technology issues. Technology companies face a number of different exposures from faulty.
Get a Free Technology Insurance Quote
Get an E & O  Quote for your Technology Company.   Download  a TechE&O Travelers  application and return to info@barraganinsurance.com
Barragan Insurance Agency provides professional liability insurance for Technology companies. Technology companies require coverage that adapts to the ever changing legal needs and provides coverage for operations and products that span international borders. Technology insurance is designed to do just that. The package includes E&O and Business Owners Policy (BOP) coverage together to offer maximum protection for tech companies. Our target market includes small one man operations all the way to large, multi-location companies.
Get a Free technolgy Insurance Quote
We can meet your Technology insurance needs for:
Electronic Manufacturing
Software / Hardware
 Video  Conferencing Equipment
Remote Telemetry Systems
Circuit Board
Semi Conductor Insdustry Flow Control Devices
Information Tech
Phone Networks
 VOIP
Telephone companies offering Long Distance, Internet Service, DSL, and  Fiber Optic Networking
Internet Service Providers / ISP
Infomation Technology Staffing Firms
Software Developers
Medical Technology
Surgical Kits
Venous Surgery Pack Distributors
Wires for Surgical Robots
Orthopedic Braces
Should you have any questions, please phone us at 916-984-9320.  You may also send us an mail to: Info@barraganinsurance.com
Barragan Insurance Agency
1132 Suncast Lane Ste 8
El Dorado Hills, 95762
Phone: 916-984-9320
Fax: 916-984-8013
Insurance Center for Sacramento and the Northern California region including Folsom, Elk Grove, Rancho Cordova, Carmichael, Antelope, North Highlands, Gold River, Fair Oaks, Woodland, Natomas, Sacramento, Anatolia, Kavala Ranch, Rocklin, Roseville, Lincoln, Loomis, Granite Bay, Galt, Natomas, Davis, West Sacramento, Citrus Heights, Orangevale, El Dorado Hills, Stockton, Modesto, Lodi, Merced, Tracy, Antioch, Dixon, Woodland, Fairfield, Vacaville, Vallejo, Marysville, Yuba City, Linda, Plumas Lakes, Chico, Bakersfield, San Jose, Campbell, Los Angeles, San Diego, San Francisco, Long Beach, Fresno, Oakland, Santa Ana, Anaheim, Placer County, Sacramento County, El Dorado County, Yolo County, San Joaquin County, Sutter County, Northern California, Central California, and Placer County, and other cities and counties within California.