We have the best business auto insurance rates for California. We provide affordable, low cost and cheap business auto insurance. Save money on business auto insurance.   We serve the Sacramento, Folsom, Chico, Redding, San Francisco, Oakland, San Jose, Long Beach, Fresno, Los Angeles, Santa Ana, Anaheim, and San Diego regions.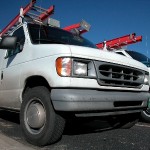 A business or commercial automobile insurance policy is required under most circumstances when the vehicle is used for business purposes and meets certain other requirements. It is not just the registration that determines the requirement for a business automobile insurance policy. Other requirements are ownership by a corporation, use in hauling goods for hire, and gross vehicle weight of the vehicle. Some small trucks can be owned and insured under a personal automobile insurance policy under specific circumstances.
Business  automobile insurance policies are not regulated in pricing the same way as a personal passenger car policy are regulated. There is price competition between insurance companies for good commercial automobile insurance.
Whatever the size of your business, we can handle your business auto insurance.  Whether your business has one vehicle or a fleet of 50 or more vehicles, we have various companies that will insure your business auto insurance.
Some of the types of businesses we write the Business auto insurance include:
    Artisan Contractors – such as plumbers, painters, carpenters, general contractors, electricians, etc.
Consultants
     Tree Trimming Services
     Lawn Services
     and Many Other types of businesses
Phone us at 916-984-9320 for a business auto insurance quote or click the quote button below.
Barragan Insurance Agency
1132 Suncast Lane Ste 8
El Dorado Hills, 95762
Phone: 916-984-9320
Fax: 916-984-8013
Insurance Center for Sacramento and the Northern California region including Folsom, Elk Grove, Rancho Cordova, Carmichael, Antelope, North Highlands, Folsom Ranch, Gold River, Fair Oaks, Woodland, Natomas, Sacramento, Anatolia, Kavala Ranch, Rocklin, Roseville, Lincoln, Loomis, Granite Bay, Galt, Davis, West Sacramento, Citrus Heights, Orangevale, El Dorado Hills, Stockton, Modesto, Lodi, Merced, Chico, Bakersfield, Los Angeles, San Diego, San Francisco, Long Beach, Fresno, Oakland, Santa Ana, Anaheim, Tracy, Antioch, Dixon, Fairfield, Vacaville,Vallejo, Marysville, Yuba City, Linda, Plumas Lake, San Jose, Campbell, Placer County, Sacramento County, El Dorado County, Yolo County, San Joaquin County, Sutter County, Northern California, Central California, and Placer County, and other cities and counties within California.