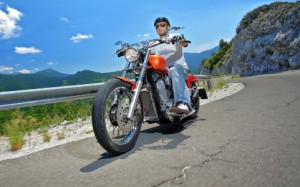 Get an affordable motorcycle insurance quote. We provide low cost affordable motorcycle insurance for riders in California. We can save you money on your motorcycle insurance. We serve areas throughout California including the Sacramento, Folsom, Chico, Redding, San Francisco, Oakland, San Jose, Long Beach, Fresno, Santa Barbara, Los Angeles, Santa Ana, Anaheim, and San Diego regions.
Are you paying too much for Motorcycle Insurance? We offer affordable cheap motorcycle insurance policies specifically designed for you and your motorcycle.  Whether you have a cruiser or a sport bike, we have the right motorcycle insurance policy for you.
The value of good motorcycle insurance often doesn't become apparent until you really need it. Whether it is a minor collision or a more substantial collision, It pays to have insurance coverage you can count on.
Let our experienced Motorcycle Insurance policy experts explain the different Liability limits, Collision, Comprehensive, Uninsured/ Under insured Motorist, Personal Injury Protection, Medical coverages, and deductibles that are available for you to choose from for your motorcycle insurance policy. We offer cheap low cost affordable motorcycle insurance policies from motorcycle insurance industry leaders.  This means more stable insurance premiums to you as the insurance policy holder.
Get free online quotes, customize your coverage, and enjoy convenient payment options.
Should you have any questions, please phone us at 916-984-9320.  You may also send us an email to: Info@barraganinsurance.com
Barragan Insurance Agency
1132 Suncast Lane Ste 8
El Dorado Hills, 95762
Phone: 916-984-9320
Fax: 916-984-8013
Motorcycle insurance center for Sacramento and the Northern California region including Folsom, Elk Grove, Rancho Cordova, Carmichael, Antelope, North Highlands, Gold River, Fair Oaks, Woodland, Natomas, Sacramento, Anatolia, Rocklin, Roseville, Lincoln, Los Angeles, San Diego, San Francisco, Long Beach, Fresno, Oakland, Santa Ana, Anaheim, Loomis, Granite Bay, Galt, Davis, West Sacramento, Citrus Heights, Orangevale, El Dorado Hills, Stockton, Modesto, Lodi, Merced, Tracy, Antioch, Dixon, Woodland, Fairfield, Vacaville,Vallejo, Marysville, Yuba City, Linda, Plumas Lake, Chico, Bakersfield, San Jose, Campbell, Placer County, Sacramento County, El Dorado County, Yolo County, San Joaquin County, Sutter County, Northern California, Central California, and Placer County, and other cities and counties within California.